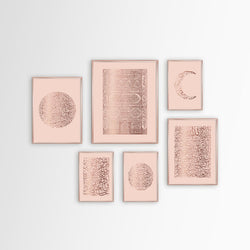 FOIL COMBINATION | 6pc Rose Foil, Nude Background, Rose Aluminium Frames
Included:
6 Foil prints with ROSE FOIL on NUDE BACKGROUND
Kaaba Door, 40x50cm (FO1001-4050)
Ayath Al Kursi Square, 30x40cm (FO1012)
Round Ayath Al Kursi, 30x40cm (FO1015-3040)
Verily Moon, 21x30cm (FO1016-2130)
Al Falaq Square, 21x30cm (FO1004-2130)
Al Baqara 115, 21x30cm (FO1003-2130)
FRAMES ARE INCLUDED
All Rights Reserved: Simone Dønvang

Our prints are produced on 200gsm Museum-quality poster made on thick and long-lasting matte (uncoated) paper and are shipped in secure cardboard tubes. They are printed on a high quality photo printer, which brings more color and depth into the prints. In larger orders, the prints are separated by a layer of silk paper.