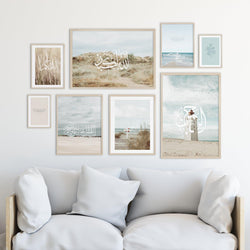 Jylland, Denmark 2020, Various Sizes
Included:
Reeds Al Hakam, Denmark 2020, 30x40cm (IS1228-3040)
Skagen Allahu Akbar, Denmark 2020, 50x70cm (IS1245-5070)
Grenen Ar Rahman 55 19-20, Denmark 2020, 30x40cm (IS1115-3040)
Oh My Lord, Let my Entry, 21x30cm (TY1074-2130)
Oh Children of Adam, 21x30cm (TY1073-2130)
Råbjerg Mile AN Nisa 4 59, Denmark 2020, 40x50cm (IS1222-4050)
Skagen An Nur, Denmark 2020, 40x50cm (IS1246-4050)
Rubjerg Lighthouse Al Rahman, 50x70cm (IS1230-5070)
For the combinations frames are optional, can be found under the frames category.
Design By: Simone Dønvang

Our prints are produced on 200gsm Museum-quality poster made on thick and long-lasting matte (uncoated) paper and are shipped in secure cardboard tubes. They are printed on a high quality photo printer, which brings more color and depth into the prints. In larger orders, the prints are separated by a layer of silk paper.