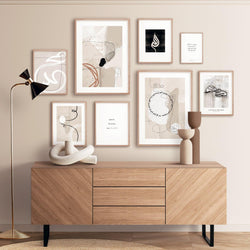 Modern Abstract Combination, Various
Included:
Abstract Al Falaq, 50x70cm (IS1326-5070)

Abstract Al Ikhlas, 50x70cm (IS1325-5070)
Abstract An Nas, 30x40cm (IS1327-3040)
Muhammad (PBUH) White lines on Beige, 30x40cm (IS1295-3040)
Allah Calligraphy on Black Texture, 30x40cm (IS1294-3040)
Allah Comes Between, 21x30cm (TY1146-2130)
Pause Breathe, 30x40cm (TY1144-3040)
Abstract We Created You, Marriage, Custom*

 

(PER1002-3040)
*Remember to fill out your  couple names and the date of marriage for us to create this print.
For the combinations frames are optional, can be found under the frames category.
All Rights Reserved: Simone Dønvang

Our prints are produced on 200gsm Museum-quality poster made on thick and long-lasting matte (uncoated) paper and are shipped in secure cardboard tubes. They are printed on a high quality photo printer, which brings more color and depth into the prints. In larger orders, the prints are separated by a layer of silk paper.